Scorpio Horoscope for March 2019
---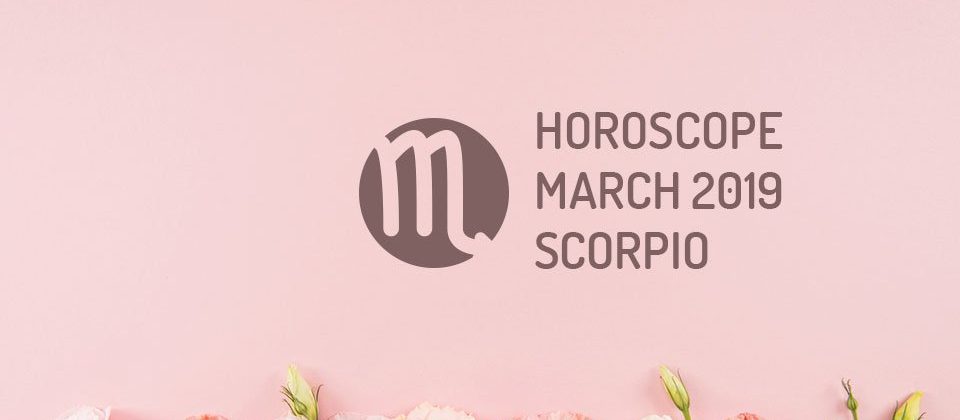 Here is your Scorpio Horoscope for March 2019. Every month, you will find at WeMystic the astrological forecasts for your zodiac sign.
Scorpio Horoscope for March: what to expect
---
Love and Relationships
The passage of Venus over House IV of Scorpio, from 01 to 25 March, will promote reconciliation and harmonious relationships in the home, as well as changes in the decoration and physical structure of the home.
As asteroid Psyche will move to this site (House IV of Venus) on 16/03 and Mercury will retrograde in House V of Scorpio, from 05 to 27 March, you have an excellent season to reflect on your beliefs and ideas, associated with the subject family and children.
Perhaps you feel a little pressured, or there is a conflict between your present opinion and the model you observed in your childhood. Whatever the situation, take the time to introspect and make sure your decisions are based on what you really want and the social conditioning or expectations of others.
On the other hand, on March 6, Uranus will make its entrance into House VII of Scorpio, where it will remain until April 2026. We are talking about a period to change the old mental framework, associated with the roles within the relationships you have with yourself, your partner or associate.
Money and Career
Finances continue to rise for the sons and daughters of Scorpio during the month of March. The presence of Jupiter and Ceres in House II of the sign refers to unexpected business opportunities, rewards for sustained work, and new ventures involving contacts abroad or academic life.
In addition, let us remember that Juno remains in House VIII of Scorpion, aiming at a commitment to the consolidation of family or shared heritage. On March 31, Mars will enter this sector of the astral map (House VIII), which will drive actions in this direction.
Even if you have good intentions, it is advisable that you do not take decisions lightly, decisions that may affect the commons. Keep in mind that Juno in House VIII also speaks to us of trust and commitment (consider the opinions of others, just as you want your contributions to be appreciated).
In terms of work, the entry of the Sun into the Scorpio's House VI (20/03) will place on the table interesting opportunities for scorpions who wish to progress in their career, in the usual place of work or under a new scheme of work (entrepreneurship, consultancies, partnerships).
Don't forget that Chiron is located in the same place (House VI of Scorpio) so it is possible that you will have to overcome problems of personal trust before assuming new responsibilities.
On the other hand, the entry of Uranus in House VII of Scorpio (06/30) marks the appearance of an ally or associate out of the common, an individual who will help you evolve, taking you out of the comfort zone.
Uranus will remain in House VII of Scorpio until April 2026, so there is talk of an extended period of time in which you will be creating new structures within relationships and associations.
Another astrological aspect to consider during this time of the year, is the New Moon in Pisces on March 6, which will touch the House V of Scorpio, alluding to a new creative project (or romantic adventure).
As Mercury will be retrogradating on this site from March 5 to 27, you may experience mental blockages or you may not feel won to make a hasty decision about it. Don't worry and take the time to think about it (don't take the results for granted).
Last but not least, on March 29 the asteroid Eros will enter the House X of Scorpio, so it is advisable not to establish relationships in the work environment or maintain the utmost discretion if it is unavoidable. Likewise, avoid initiating relationships if your final interest is not romantic.
Health
In general, the physical health of the natives of Scorpio will have a positive balance, during March 2019, thanks to the entry of the Sun in House VI and the presence of the regent planets in Earth signs (Pluto in Capricorn and Mars in Taurus).
The fact that the regents of Scorpio are under the influence of earth signs (Taurus and Capricorn), indicates that you must use discipline to comply with the routines of physical activity proposed, as there is a certain tendency to comfort.
Likewise, although the entry of the Sun into House VI will give greater vitality and strength to the sons and daughters of Scorpio, the psychological plane may be affected by the presence of Chiron in the same location.
With Chiron and the Sun in Scorpio's House VI, complexes and negative programming can be externalized as illnesses or disorders of a psychosomatic nature.
From the positive point of view, this alignment is excellent for identifying emotional wounds that need to be healed, going to therapy with a professional in the area of psychology, and focusing the work of consciousness on the development of self-esteem and personal affirmation.
On the other hand, you have retrograde Pallas in XII House, location where the Full Moon will take place in Libra on March 20. This means that, despite the balance of unfortunate events of the past, it is time to settle accounts with yourself, close cycles, and let go of the burdens that prevent you from living fully in the present.
If you feel troubled or confused by this situation, don't worry and don't put more pressure on your shoulders. On April 19 will take place the Double Full Moon in Libra, an astrological phenomenon that is characterized by bringing light on hidden issues, and that will allow you to clarify your thoughts.
Discover more about Scorpio's character and personality traits >>
---
You may also like:
---