Taurus Horoscope for January 2019
---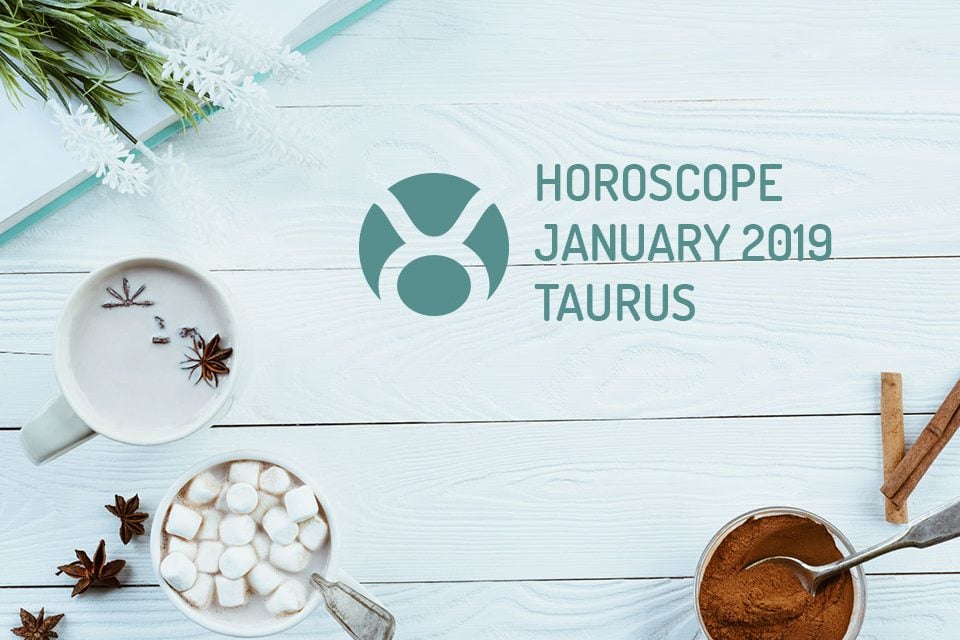 Here is your Taurus Horoscope for January 2019. Every month, you will find at WeMystic the astrological forecasts for your zodiac sign.
Taurus Horoscope for January: what to expect
---
Love and Relationships
The Lunar Eclipse in Leo, which will take place on 21 January and will touch House IV of Taurus, indicates the need to finalize urgent reforms in the home, or a move to have more space, but be careful, because it is not only to know what you want, but what you are willing to do to get it.
The lunar event also alludes to the relationship with the mother or the maternal figures of upbringing. There are situations that must be resolved through understanding and forgiveness, it will not be an easy path, but it will help free you from grudges and painful memories, which only represent burdens at this point in your life.
On the romantic plane, the presence of Ceres in House VII of Taurus (until 24/01) together with the entry of Venus in House VIII (07/01), where Jupiter is also to be found, speaks of conversations in pairs about future projects, and the first actions to be taken to make them concrete.
Although the climate will not be the most romantic for the singles of the sign, many will take the step towards a stronger loving commitment, during this season, while others are busier charting the best strategies to promote their talents, personally and professionally.
Money and Career
The presence of Eros in House II of Taurus can cause the sons and daughters of Taurus to incur unforeseen expenses, seeking immediate satisfaction in terms of safety and comfort.
Before you unbalance your budget, or fall into a situation that favors the mentality of lack, it is necessary to work from the bases and not just the consequences.
Investigate where the feeling of security comes from, what you could do to satisfy it, but not as something momentary, but with actions that are maintained over time (e.g., if you want to move to a new house, it will not be solved by buying a new suit).
It's time to start thinking about long-term goals, remember that Uranus will enter Taurus, during the month of March, which means that a (long) period of collapsing structures begins, leaving the comfort zone and venturing into the unknown.
Although Taurus finds it a little difficult to assimilate the changes, from one moment to the next, if you bring a previous planning of what you want to achieve in the future, the trip will be much more pleasant.
Additionally, the presence of Jupiter in your House VIII, which will be joined by Venus (on 07/01), speaks of couple, partner or family that supports the achievement of objectives, and financial well-being, provided there is a mutual commitment, and not the interest of taking advantage of the goodwill of the other.
In the workplace, the eclipse of Sun in Capricorn on 05/01, which will touch House IX of Taurus, points to business opportunities or a personal project that is built abroad or involves staff of different nationalities.
It may also involve your own initiative that begins to take shape, international moving procedures that begin to materialize, and management of related documents.
It is important to bear in mind that in House IX in Taurus, there are also Pluto, Saturn and the South Node, therefore, it will not be a one-day process, but something you have to work on consciously and with dedication.
There will be structures that will collapse (Uranus in Taurus, starting in March), patterns and self-imposed limitations to overcome (South Nodes in House IX), and the responsibility to assume the consequences of your actions (Saturn in House IX), to open yourself to transformation and success (Pluto in House IX).
However, the solar event of 05/01 together with the influence generated by the entrance of the Sun and Mercury in the House X of Taurus (on 20 and 24/01 respectively), will give you a sample of the satisfaction you can obtain, if you work for your real objectives.
For the students of Taurus, the presence of Pluto, Saturn and the South Node in House IX, where the Sun Eclipse in Capricorn of 05/01 will also take place, materializes as questions about the professional path, vocation and plans, once the teaching period is over.
Health
The beginning of the direct phase of Uranus in House XII of Taurus, on 06/01, refers to the feeling of liberation that will seize the natives of the sign, during this period of the year.
The subject will learn to value his independence, both material and emotional, by detaching himself from old beliefs and conditioning, which hindered his personal growth.
These are ideas rooted over the years, which may have originated in childhood, adolescence or early adulthood and still remain dormant.
Likewise, Uranus directly in House XII of Taurus alludes to breaking the structure of grudges and painful memories that are part of your mental scheme. It is time to let go of the past, and embrace the now, free.
You may think that these memories are the ones that save you from new failures, but they are only spare luggage, a negative burden that can create barriers to new experiences.
On the other hand, although in general, the physical condition of the natives of Taurus goes through a good time, the entry of Venus in House IX of the sign (07/01), where Jupiter is also, can lead to unconscious abuse when eating or shopping, especially if you are traveling outside your usual area of residence.
It should be noted that the opposite action is also possible, in which case you may exaggerate when restricting yourself in the intake of food, especially those that you like best, or reduce expenses to the minimum with the belief that you are in the most absolute misery (although it is not true).
If you really want to lose weight, the right attitude is to consult with a nutrition professional, who will design a menu especially for you, and not torture you with a restrictive diet, which will not be sustainable in the long term.
In the same way, it is better to be honest in financial terms, to know your expenses and needs, to establish a real planning, and not to create an economic mental framework full of lack, which threatens your conscience of deserving and prosperity.
Discover more about Taurus character and personality traits >>
---
You may also like:
---