Money predictions for September
---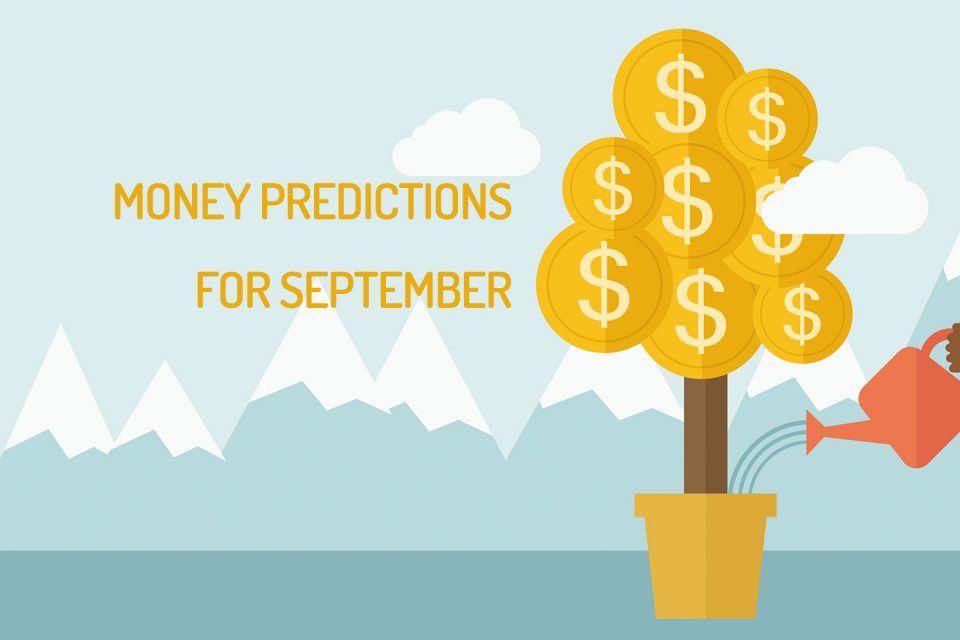 Looking for money predictions for September? Stars have shown what to expect for September 2018 in what comes to money. Come and check it out.
Receive all our tips by email!
Love Astrology? Subscribe Now and Receive Exclusive Content!
Money predictions for September for each zodiac sign
---
Aries
This month this is the area of major importance for the natives of Aries. As the retrograde activity will be drastically less now, it will create a natural window for you to put into practice old plans and projects. In fact, every attitude of the Aryan will show results faster and more efficient than in the last month.
Take advantage of this improvement. Also, the planet Venus, your love planet, will be moving forward now, but it should be added that Venus is also your planet of finance, propelling this sector, which receives great energies.
The movement of Saturn from its fifth to sixth house was also put on the agenda, but note also that it moves from Lion to Virgin, and that Saturn is its career planet. With this, much in your financial and professional life begins to take a new shape.
Basically, this represents a shift in attitude toward work from now on. The Aryan understands that work is, above all else, a work, and must strive for it.
More predictions for September here.
Taurus
Work may not even be the high point of your interests for the entire month, but it should not be neglected, on the contrary. Professional life should rather be one of your main interests.
The work should become more important for the those born under the sign of Taurus next to September 23rd. It is on that date that you will be more willing to face life on a more serious side and also to be more focused on practical goals. Until then, try to take the time and find a way to have fun and find work pleasure.
The finances aspects are good and they should be in good shape for practically the whole month. Taurus on a great financial intuition, which is great news for investors. Learn to use this gift that is by your side to detect good opportunities in the distance.
More predictions for September here.
Gemini
September is a month of great growth and learning for Gemini natives, both in your professional and day-to-day life. Understand that this is not a month to enrich or become the leader of any organization. Your goal is to cross difficulties with ease and suffer as little loss as possible.
Those who are wiser will be able to see these difficulties as a great opportunity to mature and to know themselves better. Find out what your weaknesses are, get rid of them or strengthen your strong points.
Concentrate a significant portion of your extra money to clear debts and stabilize your financial life, especially between September 10th and 11th and also on the 26th.
At the same time that your seventh house of relationships is becoming much stronger in comparison to your first house of being, seek to grow through others and learn to explore your relationships to seek for good opportunities.
Your fifth house of creativity, joy, speculation and sons is especially strengthened now. Look for ways to strengthen finances through your most creative ideas. Follow your instincts and seek an eventual partnership with your children.
More predictions for September here.
Cancer
Many may even think that those born under the sing of Cancer are more ambitious and dedicated to professional life. This is due to the fact that your career planet moves to your sign around September 28th. This means that, even if a bit late, the career is being boosted and you have good expectations about the future.
Finance should show a considerable improvement for the major of Cancerians. Those who should be most grateful for this improvement are those who were born closest to the beginning of the reigning period of Cancer.
Those born later this month will also receive good relief in their financial lives, which should be closer to the end of this year, and possibly in the years to come. Just wait a little longer. It may take a while, but the relief received from the financial obligations will certainly be worth it.
The movement of Mars to Cancer attracts many career opportunities in the life of the Cancerians. You will not even have to work hard, but be careful, because every opportunity needs to be in line with personal life.
Many of your best opportunities should be in segments such as the real estate investment and buying and selling business. The family also seems to be a major financial pillar thanks to recent prosperity. This is also a great time to wipe out certain expenses and stop leaks in financial life. Only then will you be able to fill the reserves dedicated to the future better. This is a great tip from the universe and should be heard.
More predictions for September here.
Leo
The situation of the professional and financial life of those born under the sign of Leo is curious and very interesting, but the main point is that they must work very hard this month.
Some planetary events such as the presence of Mars in his tenth house da career will almost make you devote most of your time to work and professional matters.
It is good that you are committed to giving your business a solid ground now. After all, for now the planetary majority remains positioned in the eastern sector of your horoscope, guaranteeing more independence and power of action to modify the environment at your will.
Such a configuration will not be eternal and perhaps very soon it will have to change, making it prudent for you to try to make the best use of the opportunities that arise to create the best conditions for its future advance.
Major financial changes are about to take place in the life of those born under the sign of Leo, and curiously, they will not be imposed by the environment, but by the Leo himself. Your attitude toward your money and your career seems to be changing and acquiring a new form.
The way you make money may not be the main target, but rather the way you manage those resources. To a great extent, this is the influence of a set of planetary drives, beginning with the displacement of the planet Saturn from its first to its second house. This displacement, coupled with the emergence of a solar eclipse, should make Leo much more serious about anything that involves money.
Strong winds will blow so the leonine tries to reorganize his entire financial life and build a whole new organization. Investments will be reviewed and can be exchanged. Failing to support a project and thinking about putting your savings in other sectors will be frequent.
But what should further evidence this new leonine financial policy will probably be his attempt to cut costs. Avoiding any form of waste or overeating seems the way you view your finances now.
The leonine is probably one of the greatest spenders of the zodiac. Few are able to spend as well as they earn as them. The only sign that might be able to compete with him in spending is our Sagittarius.
So, this new leonine posture is extremely welcome because he will not deprive himself of anything that is necessary or give up his happiness, but he certainly intends to organize his financial life.
It is important to understand how the leonine's new vision of finances and his career will work, as well as his motivator behind everything, as this will guide each step of you from now on. Every extra money you make will be directed toward savings or some very specific investment.
More predictions for September here.
Virgo
Professional and external life, although still important, no longer shines as much as some would like, to make room for personal life. However, this feature can even be positive, both because this personal evolution is necessary, and because it spares the external life a lot of stress.
Anyway, as has already been noted, there is a great mood for change ahead, and most of them will be long-term. The same goes for career and finances. It's time to conduct a detailed review and create an extensive and meticulous planning.
There is power of action in your hands. Power enough for Virgo to live their life according to their own desires and desires. The challenge now is to figure out how to do it less expansively and without drawing too much attention.
Great financial winds are in your favour, especially close to September 3rd and 5th. The family is also generous; wealth tends to increase; your assets gain value and you know how to deal with it. But do not forget: there are conditions for this.
Stay tuned for your spirituality and get more involved with your career now. This issue seems to play a major role in finance.
More predictions for September here.
Libra
Check here the money predictions for Libra. This month you career will need and will receive its dose of attention and care.
In fact, much of what is observed and discussed about the planetary arrangements in the inner life also exerts its direct influence on the career and the finances, but in a slightly different perspective.
The presence of a significant solar eclipse on September 11th, brings many changes in the spiritual area and in the way you deal with your beliefs. But something very important here and that can easily escape your eyes is the fact that these changes can directly influence your professional and financial life.
When we add this to Saturn's movement on September 2nd , it becomes very clear how spirituality will be important to you, and how you approach the subject in a more practical and scientific way. It is precisely this new way of looking at spirituality that can bring it closer to working life.
Hearing what a spiritual advisor has to tell you about a business or even your own heart becomes much more than just a guess. There is a whole construction of thoughts behind the spiritual vision. Your career will be taking another level of seriousness, requiring you to be treated accordingly.
Your ruling planet is beginning to move forward and to bring great personal clarity to your goals. It is time to realize plans and take action; nothing to be just thinking and arguing.
Build something you want and prepare for the aftermath, whether good or bad. Just be careful not to get involved in many conflicts along the way, especially with your partner, who seems to be more sensitive. Even with love in the lead, finances are still very important and have their chance to grow, especially after September 23rd. Until then, everything should be a bit more challenging.
Your finance planet, Pluto, is moving forward as early as September 7th. Pluto moving forward brings a clearer and more solid financial judgment; take advantage of this situation to better explore your opportunities with friends and in different social relationships. The gains may not come right away, but you are opening the doors to it.
More predictions for September here.
Scorpio
By now, many Scorpio natives already have an idea of how their careers should behave this month. What you may not have realized is how your spirituality has been getting involved with your career and finances.
That is precisely one of the most important points now. Your spirituality and intuition, always very keen, are leaving a little to be desired lately. But you can reassure yourself that they are finally sharpening again.
This should be a happy month in the spiritual area, and the involvement of the Scorpion in such activities should create many opportunities related to this area. Religious encounters, places of study, and charitable activities can hide fantastic business opportunities.
Be aware of everything your guru or spiritual counsellor has to tell you and make sure you cannot take advantage of it to boost your earnings. The dream world must also be in your sights. Those who know how to properly extract information from their dreams can have a fantastic weapon in their hands.
This is a period of great independence and power of transformation. The misuse of power for Scorpio's eastern sector is even stronger this month – practically 70% of the planets can be seen there at some point. In addition, your first house of being must grow in power soon after September 11th, and it makes you think more about yourself and what you want to become.
It is important to know how to negotiate and work as a group, but if you are totally against what you want and believe, without following what you consider to be the best option, you probably will not make the right effort, drastically reducing chances of success. Work hard, work hard, but work on what you truly believe in.
More predictions for September here.
Sagittarius
There is a lot of activity and a lot to do around here, something that can sum up Sagittarian external and professional life now. In addition to an undeniable climate of change and reflection that hangs in the air, you have the planetary majority in the daytime sector, a tenth career house strengthened and, as if that were not enough, an important Saturn movement.
Saturn is coming out of Leo and entering Virgo, leaving his ninth house and entering the tenth house of Career. These are more than enough signs to realize that you need to devote more of your time to your career and business – this is where your good fortune is and where your attention is most needed.
A career needs more of your attention as well, besides good luck there are also many problems to be solved. Some of them will be brought by the Solar eclipse of September 11th. In reality, the eclipse brings changes and not problems, but for them to happen it may be necessary to overcome some difficulty.
Perhaps the Sagittarian will enter into arguments with parents, bosses, or other authority figures, and will likely be forced to accept more responsibilities than usual. Either way, the situation will come to a greater good, so face positively. Just preserve yourself more and be careful about business in the days ahead of the eclipse.
While finances are favoured and have good growth possibilities now, they are still a challenge to be overcome and should be taken very seriously. The good news is that, with your financial planet changing sign, the Sagittarian is also more careful and should spend less. Controlling expenses has always been a natural difficulty for Sagittarians, for whatever reason.
Those looking for a new job may also find good opportunities in this segment, but they should be more careful about the proposals they receive and search well before accepting some miracle offer. The same applies to employers; a mistake can cost you more than usual.
More predictions for September here.
Capricorn
While it is something of great interest to Capricorn as well as an industry that requires a lot of your attention right now, most of you are really committed to improving your financial life and career advancement.
The earning potential is high, but the Capricorn is also working harder to keep everything on schedule. Many planets are in Libra and making a stressful appearance on the Capricorn. If this is not enough, Saturn, who is your ruling planet, will be involved in a Great Quadrature.
Again, finances have great potential to be better and progressing through the month, but it will take more effort from you. The good news is that people like parents, bosses, seniors and people of authority seem to be on your side and will support you.
As mentioned earlier, the movement of Saturn is very relevant to the life of the Capricorn. Some changes are planned in the educational world, so that higher education becomes more important now.
With some stressful events and your finance planet still retrograde, for example, the investment world must be more careful. Do not venture into new purchases and contracts without extensive and meticulous research.
Anyone seeking a new placement is more likely to succeed after September 15th. You should focus on recognizing your skills and your good work history.
More predictions for September here.
Aquarius
For those born under the sign of Aquarius, there are many career-friendly arrangements this month. Besides the planetary presence, you still have the tenth house gaining power and getting much stronger after the eclipse of September 11th.
Already earlier this month we also noticed that his career planet, Pluto, will begin a direct and vigorous move after months of suffering in a retrograde situation. Take advantage of this opportunity that the cosmos is offering you and contribute to your projects and plans walking the way they should.
However, be cautious and control your finances for now. On the day of the eclipse, Saturn will be in Scorpio and will begin the period of a Great Square, which will cause twists around the world for a few months.
For now, it only represents an increase in activity and the Aquarian will have to strive for his career, but it does not mean that anything should go wrong. This can be stressful, but if you can overcome the obstacles, the result will be rewarding.
You should also be aware of your partner's finances as he or she may be going through an important moment of transformation.
More predictions for September here.
Pisces
Changes and more changes. This is a constant this month for the Pisces. Something positive, since many were waiting and needed a climate of renewal in their lives.
Great news for those who were a little discouraged from working life is the fact that now it is they who will have the planetary majority to their favour and therefore will be the central point of their life.
In addition to the movement from Saturn to Virgo on September 2nd, your career planet is moving forward from the previous month and it will receive even more positive aspects now.
Even so, you still have to be careful. We cannot fail to point out that an eclipse manifests itself on September 11th and leaves everything more troubled. Some news and changes are always expected during eclipses, such as changes in the corporate hierarchy or even some issues with authority figures.
Those who engage in speculative activities should take a little more care during the month, and especially in the days following the eclipse. By September 28th, Pisces must work harder to keep the gains, but all that effort will be worth it.
Do not forget to practice your social skills as they will be a powerful tool to boost your career and business.
More predictions for September here.
---
You may also like:
---