Capricorn Tarot 2019: major advices
---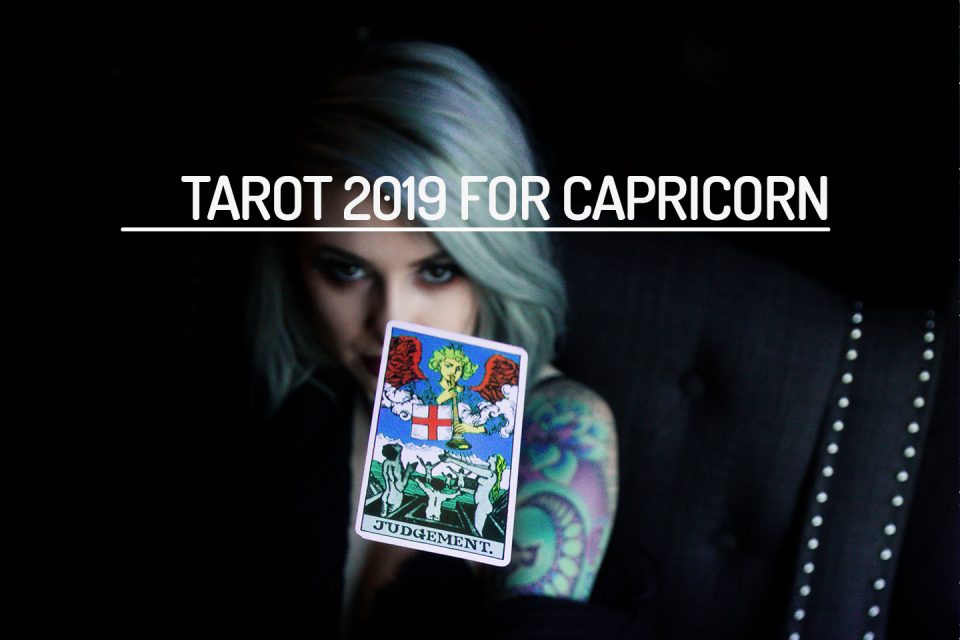 What to know about Capricorn Tarot 2019? First of all, in 2019, Capricorn faces significant tests in its evolutionary path, as demonstrated by the simultaneous presence of Saturn, Pluto and the South Node in the domains of this sign.
Pluto drives transformations and the search for true personal power (inside, not outside), while Saturn aims at building structures that allow you to achieve your goals and take responsibility for your achievements and failures.
Finally, the presence of the South Node in Capricorn (and the North Node in Cancer) refers to the recognition that you are not alone in the world, and that interaction with others brings you closer to your expansion.
Receive all our tips by email!
Love Astrology? Subscribe Now and Receive Exclusive Content!
Capricorn Tarot 2019: advices and recommendations
---
Below is a series of advice or recommendations, obtained through the astrological spread, to accompany the personal development of the sons and daughters of Capricorn, during 2019.
Arcane: 5 of Cups
House I: self-affirmation, personality and its external manifestation.
Advice: sadness. Something that produced joy can now be a cause for disappointment. In the face of negative feelings, remember that you are not alone, and there are people willing to lend their support, in difficult times.
Arcane: Ace of Spades
House II: resources, material possessions, and personal appreciation.
Advice: logic must prevail over impulses in the management of financial resources. It is only through structured planning that you will be able to achieve the proposed objectives.
Arcane: 8 of Cups
House III: communication, mobility and thought.
Advice: to make the conscious decision to free oneself from the past can be painful, but it is necessary, especially before the possibility of opening oneself to a new framework of beliefs and experiences.
Arcane: Wheel of Fortune
House IV: home, family and origins.
Advice: unexpected opportunities that will require a quick response from the natives of Capricorn. This could be a move, the purchase of a property or a real estate transaction. Be prepared and attentive.
Arcane: 6 of Wands
House V: romance, creativity and children.
Advice: optimism. Projects that are successfully completed, despite opposition from third parties. Stability in romantic relationships and the possibility of commitment for singles.
Arcane: 6 of Pentacles
House VI: health, work and service.
Advice: the collaboration you have given to others, in the field of work, will be paid to you. Take the opportunity to update your network of professional contacts, and enhance your working relationships. If you are looking for a new placement, the opportunity will be presented through an acquaintance or colleague.
Arcane: 9 of Swords
House VII: personal relationships, contracts and declared enemies.
Advice: fear of loneliness or the breakdown of an established relationship. In the first case, it is necessary to recognize that you are not alone, and that overcoming anxiety should not be the reason that drives you to seek a partner.
With respect to the second option, honest communication is the best weapon for overcoming unfounded misgivings. It breaks with the old conditions.
Arcane: 5 of Pentacles
House VIII: sexuality, transformation and shared goods.
Advice: you may feel lonely, even within a relationship. You can break the vicious circle, getting the best learning from the old faults, and opening a space of trust, to express your true feelings (with a partner, family).
Arcane: King of Cups
House IX: Philosophy, higher studies and travel.
Advice: the experience and wisdom that you have cultivated in your life journey will be your main strength when it comes to giving help to those who really need it. There is love in your heart, and you are able to share.
Arcane: 10 of Wands
House X: vocation, aspirations and public life.
Advice: the zeal for perfectionism can lead to exhaustion. It is convenient to learn to delegate responsibilities, and to plan activities, respecting the rest periods, to recover the energy.
Arcane: 2 of Wands
House XI: friends, groups and social conscience.
Advice: there will come a time when you will have to impose limits on certain individuals who snuck into your social circle. While it's a decision you've been putting off for a long time, the crucial period is approaching. Beware of ego traps.
Arcane: The Magician
House XII: mysticism, karma and hidden enemies.
Advice: the paths are open to you; you just need to take conscious responsibility to fight for what you want.
---
You may also like:
---