CHINESE HOROSCOPE 2022: HOW WILL THE YEAR BE FOR THE SIGN TIGER
---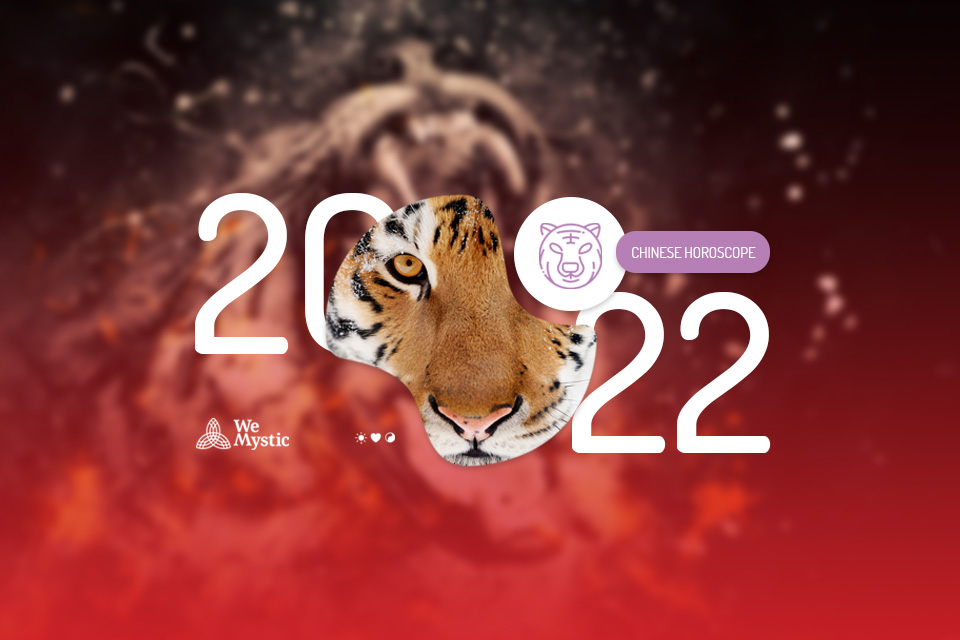 In Chinese astrology, the Tiger is in the Yang Wood (tree) group. The Tiger is the tall tree of spring. A tiger meeting another tiger are two trees competing for their heights. This means that people born in the year of the Tiger will face a lot of competition. Chinese philosophy uses the image of a Tiger passing through a territory, which belongs to a tyrannical Tiger in charge. The Tiger who is passing through must act with great caution and discretion in order to cross this territory, otherwise he will have problems during his journey.
This animal is ambitious, is not gregarious, and is difficult to get along with, so it does not like to have competition. This means that natives of the year of the Tiger may face challenges regarding love relationships, finances, career, and health.
2022 for those born in the year of the Tiger, forms the image of two tigers fighting for the top of the mountain. No one knows who will be the winner, as they are equal. They need to compromise and work together!
With all that said, some natives of the year of the Tiger can still benefit from the qualities of this year, especially for those who the wood element is favorable in their chart.
2024 predictions are out
Discover the stars predictions for new year!
CAREER
This year you will probably not focus on developing your career or seeking a high position, you will focus on your income, and will probably invest money in your future business or career. It is favorable to start a new business with friends in another city.
Those born in the year of the Tiger will have many interesting professional opportunities. Except for a few annoyances, often due to mismanagement of his time, the Tiger will usually find a way to make the right decisions at the right time, according to his aspirations for success. He should be selective before getting involved with professional partners that he is not used to working with.
The Tiger will also have to guard against the risks of a territorial war so as not to harm the beneficial energies of the Year of 2022. Likewise, in the Year of the Tiger, it is desirable not to cross paths with another Tiger seeking new space, because unless an immediate agreement was reached, confrontation would probably be inevitable and difficult.
On the financial side, Tiger will have the chance to be able to preserve its economic situation. His previous investments will even provide him with unexpected benefits. But beware, if no savings plan is in place, the money will disappear as fast as it appears. He just needs to keep his eyes open and not get too excited about opportunities that seem a little too appetizing to be real.
Anyway, new job opportunities can bring you a better income. If you have an opportunity for promotion in your job, you should show your enthusiasm and accept the new position. But you could encounter strong competition. This is a good time to make a change in your career. You should fight for the opportunity with all your strength.
The duties and challenges of the new position are similar to those of the current job. But you should be paid more for your talent.
LOVE
As I mentioned earlier, the element of Tiger is Yang Wood, which is a tall tree. Two tigers meet, as if two tall trees were side by side, without intersection. This means that friendship grows, but the spark of love diminishes.
Single women may face competition in their social circle or work environment. This means that single women need to be patient to find their better half. One tip is to travel, attend parties to increase the chances of meeting someone.
Committed women should strive to keep the relationship alive and dynamic. This year's competition affects both single women and those already in a relationship. Keep your better half busy. Enjoy sightseeing and traveling more. On the other hand, if Tiger hesitates for too long before ending a relationship with no future, he risks finding himself trapped in a toxic relationship.
HEALTH
His health should be in good condition. The Yang Wood is like a tree, so it is not flexible. If you don't exercise, your body will become stiff, and your spine will be sore. Stretching and exercising in the park are good ways to recharge your energy.
This year you can start a new physical activity, so you need to pay attention to sports injuries, and bicycle accidents. If you have a lot of wood in your natal chart, pay attention to the health of your arms, legs, liver, gallbladder, and nervous system. Also take care of your feet, colon, and digestive system.
The year 2022 potentiates your energy and vitality and taste for risk. It is important to balance your impulsive propensities, while allowing you a more productive and healthy pace. Yoga sessions will help Tiger gain a better understanding of himself and his limits.
Check the predictions for all signs
You may also like:
---