Libra Horoscope for December 2019
---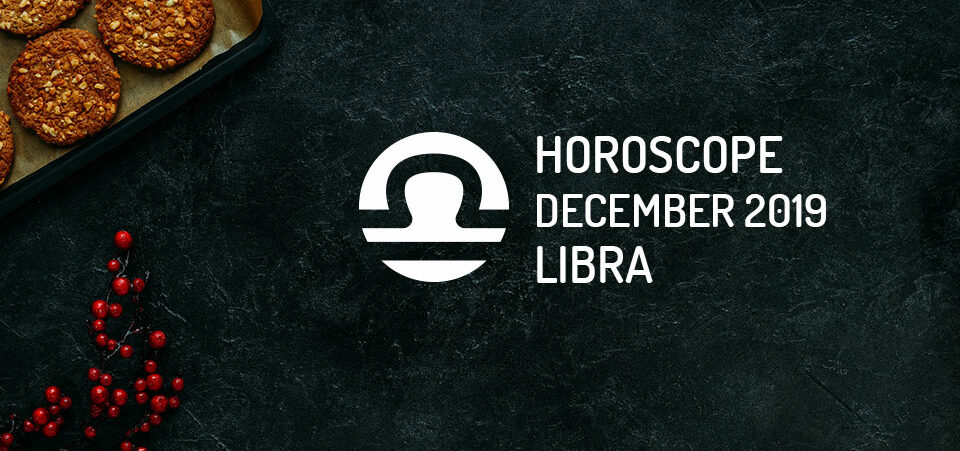 Here is your Libra Horoscope for December 2019. Every month, you will find at WeMystic the astrological forecasts for your zodiac sign.
Libra Horoscope for December: what to expect
---
Libra Horoscope for December: Love

---

On December 2, Jupiter will enter House IV of Libra, where he will remain until December 2020, signaling a period of expansion at home, on a material and spiritual level (connection with ancestors and family roots).

With Jupiter in House IV of Libra, a stellium (accumulation of planets) will be created in this sector of the astral map, where Pluto, Saturn and Venus are located, in addition to the dwarf planet Ceres, the asteroid Eros and the South Node.

Although the planet of desire (Venus) will leave this location, on 12/19, it will be quickly replaced by the Sun (12/22), Mercury (12/29), and the Moon (12/26), maintaining the configuration indicated (stellium).

The stellium in the IV House of Libra will be active until the period January – February 2020, and points to intense home activity, concern for past events, and attachment to the comfortable area.

Keep in mind that it will be precisely on House IV of Libra, where the annular Eclipse of the Sun in Capricorn will take place, on December 26, an event that will question your position in the face of everything that offers you security.

You may have to face small domestic problems, or with a relative who is going through old age. In any case, it will depend on the native, to assume the facts as an opportunity to raise their consciousness, or to get carried away by negative feelings.

Another lesson associated with the solar eclipse in Capricorn in House IV of Libra, is to learn to be your own mother: love yourself, impose discipline (when necessary), and protect yourself from what you try to diminish your value (including your own wrong beliefs).

On the sentimental level, on December 20, Venus will enter the V House of Libra, increasing the chances of romance, for singles of the sign. Romantic getaways as a couple will be well aspected, as will conversations with female descendants, in adulthood or adolescent.

On the other hand, the beginning of the direct trajectory of Chiron in House VII of Libra, and of the asteroid Vesta in House VIII, indicates that the subject will be willing to interact with their partner, without confrontations, but also without diminishing importance to their own needs.

Libra Horoscope for December: Money

---

Mars continues in House II of Libra, so the native remains focused on the achievement of material resources, to realize their objectives, and settle outstanding commitments.

On the other hand, on December 29, the asteroid Vesta will begin direct trajectory in House VIII of Libra (where Uranus is retrograde), aiming at a better administration of shared goods.

It is worth noting that although Uranus retrograde in House VIII of Libra, it encourages us to reflect on new forms of common heritage management; Vesta in direct trajectory in this location, drives a conciliatory attitude towards others and their opinions.

On the labor level, from December 9 to 28, Mercury will be traveling over House III of Libra, where the asteroid Pallas and the Sun remain (the latter only until 12/21).

This alignment is especially favorable for work in social networks; participate in congresses, symposia, presentations or short courses; and promote your ideas.

As Venus will enter the V House of Libra, on 12/20, your creativity will be on the rise, and you will have a renewed interest in expressing your talents and your personality.

Another astrological aspect to consider, during this time of the year, is the Full Moon in Gemini on December 12, which will touch House IX of this sign, resulting in the culmination of an academic assignment, the resolution of a publication, or a international procedure

Likewise, the lunar event will offer the subject greater clarity about his personal beliefs (which ones to keep and which ones to overcome).

Finally, on December 27, the asteroid Psyche will enter the VI House of Libra (where Neptune and Lilith are located), referring to exploring the hidden fears that prevent you from growing in the work environment.

Libra Horoscope for December: Health

---

Overall, December 2019 will be a positive period for the health of the natives of Libra; However, this does not mean that they have a free pass to commit excesses or carefreeness.

The presence of the asteroid Juno in the sign of Libra, refers to the commitment to personal goals, mainly in regard to one's own well-being, and that of the partner (in case of not being single).

The fact that Neptune remains in the VI House of Libra, can create some resistance to follow routines or establish new habits of life, so it is necessary to understand the need for them.

If you decide to taste a new culinary dish, or visit the trendy restaurant, pay attention to the ingredients used in the preparation of the meal; given that Neptune in House VI, affects the risk of food allergies or medications.

It is important to keep in mind that Lilith is also in House VI of Libra, which can result in a clear opposition (or rebellion), to the advice and instructions of third parties.

If you are in recovery, performing therapy or following medical treatment, avoid leaving early, just because you feel better.

Finally, on December 27, the asteroid Psyche will enter House VI of Libra, indicating that you must be sensitive to your needs, and take care of yourself with love.

Psyche in House VI of Libra also suggests the existence of situations of psychological or emotional nature, which you must solve, before they become psychosomatic conditions.
---
---