Ritual for protection in 2024: crystals, amulets and more
---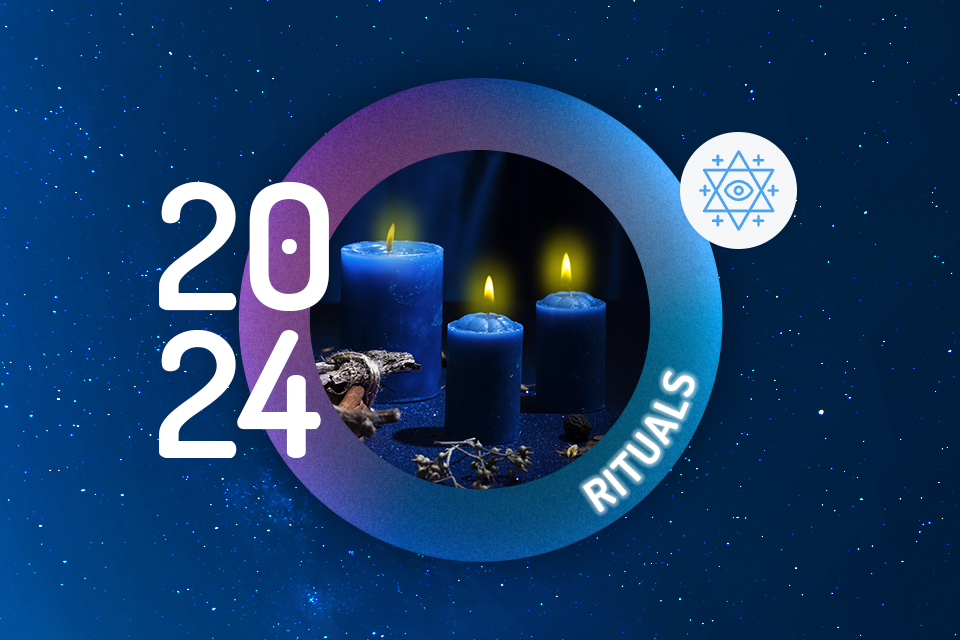 Every year, various rituals are practiced in order to attract good energies for a new cycle that is beginning. Prosperity, love, and money are just some of them. But in times of uncertainty and insecurity, a ritual for protection in 2024 should shield your spiritual field from bad energies such as hate, envy, and the evil eye.
Receive all our tips by email!
Love Astrology? Subscribe Now and Receive Exclusive Content!
Ritual for Protection in 2024
Crystals, candles, herbs, amulets, there are many possibilities for those who want to make a ritual for protection in 2024. Although they all vibrate in a certain way and have their energetic properties, your faith will be the main ingredient to make the ritual work.
Below we have listed some suggestions of magical items for you to use as personal or environmental protection. Remember that the use of one does not prevent or cancel the use of other means.
You can combine the items as you feel best and in the order of your preference. Pay attention to the energies that are vibrating in harmony with yours at the moment, and follow your instincts.
Ritual for Protection in 2024: Stones and Crystals
For protection throughout the years, many people like to rely on the help of crystals. To make your ritual for protection in 2024 in this case, you will only need to understand the process of cleaning, energizing, and programming the chosen crystal.
Once you have chosen the stone with the desired characteristics (you can have them all, even), you can use them during meditations, in an accessory, or carry them in your purse or wallet, for example. See which crystals have protective properties.
Black Tourmaline
While there are fantastic protective properties in many crystals, none of them surpass those of Black Tourmaline. Complete in energetic terms, it is responsible not only for blocking negative energies, but also for grounding and neutralizing what it received.
It even works to repel those energies purposely sent to you, such as envy or hatred. It can be worn as an amulet (in accessories or on your bag), during meditations, or on your desk, for example.
Hematite
Metallic gray in color, Hematite is a beautiful crystal for spiritual protection. Because of its hue, it is usually associated with metal, and thus connected to the deities of war. It is very common to find rosaries and other religious elements made with the stone.
Eliminating negative and oppressive energies, the stone also increases self-esteem and self-confidence. It is known to be a true giver of life, movement, and action.
Click to learn more about Hematite!
Selenite
Crystal of extreme light and spiritual connection, Selenite has the power to raise our vibrations, generating a kind of protective energy shield around its bearer. In addition, it has the ability to eliminate negativities already accumulated in the physical, mental, and spiritual bodies, enabling the purification of the Aura.
Indicated to protect people and environments, Selenite attracts positive energies and awakens abilities such as telepathy and mediumship. Subtle and delicate, it can be used in accessories and does not need cleaning, as it already has this function – it can even clean and energize other stones.
Amethyst
Fascinating, Amethyst is one of the most powerful stones for the human mind. Responsible for ridding addictions and enhancing virtues such as discernment and common sense, it also acts as a protective shield.
According to Greek belief, the Amethyst stone protects us not only against sorcery and falsehood, but also from bad thoughts that we ourselves are capable of implanting.
Due to its transmutation property, Amethyst drusks are widely used to protect environments, acting as a shield against the evil eye and other negative energies.
Obsidian
Like Tourmaline and other black stones, Obsidian has highly protective properties, acting as a shield against negative energies. The powerful energies of this stone neutralize bad vibrations, purifying the environment and balancing the spirit.
A grounding stone, Obsidian breaks down attacks of envy, evil eye, and black magic, allowing the body and mind to heal, release tensions, and achieve balance. In addition, meditating with this stone can bring amazing results on a mental and spiritual level, breaking down barriers and increasing energy.
Tiger Eye
Tiger's eye crystals are not only beautiful and intriguing, but they also reserve an immense power of protection for those who possess them. Since ancient times, the stone has been used to ward off negative energies, boost self-confidence, and break any kind of energetic attack (such as black magic, envy, or evil eye).
To clean the crystals, use running water and coarse salt, or leave them in direct contact with the earth (on it or buried) for about an hour. Then energize them by letting the sun or moonlight shine on them for a few hours.
To program your crystal after energizing it, just hold it with both hands and meditate, mentalizing the purposes you want to extract from it. Try to visualize in it your goals as if they had already been achieved. Remember that correctly intending your objective is fundamental.
Ritual for Protection in 2024: Coarse Salt and Herbal Baths
Taking a bath of coarse salt with herbs is a powerful ritual for protection in 2024. In general, the herbs used are usually the same, but you can combine up to 21 herbs with different properties if you wish.
Among the herbs for protection, the most famous are White Sage, Rue, Guinea, Rosemary, Pepper, and even Basil. To perform the ritual, just dilute some rock salt (about 7 tablespoons for every 2 liters of water) and the chosen herb(s) in warm water, straining the contents after about 5 minutes.
After your hygiene bath, pour the water over your body, always from the neck down, mentalizing that this water is taking away all the envy, the evil eye, and spells that have been directed at you.
No need to rinse, and preferably let the water dry naturally on your body without the aid of a towel. Wear clean, light-colored clothes after the bath – preferably white. The strained herbs should be returned to nature, never thrown in the garbage.
WeMystic Suggestion: You may like the effects of 7 herbs, rue, or basil bath salt. Although there are slightly different properties between them, they are all baths for personal deliverance and protection.
You can do the bath at the beginning of the year and repeat it at most twice a month. Baths for protection and unloading are very powerful and can cause energetic wear when too frequent.
Ritual for Protection in 2024: Candles
If you have a deity or holy devotion, you can use candles to enhance a ritual with crystals, herbs, amulets, or talismans. If you prefer, it can be used alone, accompanying a moment of meditation and prayer.
For protection purposes, you can light a 3 or 7-day candle for Saint George, Saint Judas Thaddeus, Saint Expedito, Our Lady Aparecida, or even Yemanjá, for example. The aforementioned saints are known for great miracles, and for granting graces to the afflicted and about to lose hope.
Whenever you light a candle to your saint, orixá, guardian angel, or other divinity, say a prayer, meditate, and try to connect with this energy, so that the candle is no longer just an object, but becomes a spiritual bond between you.
Another possibility, if you are using other elements for your ritual (such as crystals and incense), is to choose a candle by its color. If you want protection, blue, white, violet, or black candles are good choices.
Ritual for Protection in 2024: Smokings and Incenses
Herbs are often used in incense or smokings, especially when it comes to protection for environments. The most recommended herbs for this purpose are rue, white sage, meadowsweet, basil, rosemary, and guinea.
If you choose smokers, you can buy the herbs already dried and burn them together or individually (according to the properties that best suit your needs) in a heat-resistant container.
As with incense burners, the smoking should be done from the back to the front of the house, office, or desired environment. Try to keep circular movements and "sweep" the energies out of each room until they leave through the front door.
While the incense or herbs are burning, meditate for a few moments and mentalize what you wish to attract to – or remove from – your life. The ritual can be done on December 31, or in the week before the end of the year. However, you can repeat it whenever you feel the need.
WeMystic suggestions: if you are confused about which herbs to use, we can recommend an arruda smoker, a 21-herb smoker, or a descargo smoker, which allow for smoking without the need for charcoal. If you don't want to burn the herbs, you can opt for rue incense or 7 herbs, which are equally effective.
Ritual for Protection in 2024: Amulets and Talismans
And who doesn't like amulets and talismans? To make your ritual for protection in 2024, they can be essential if you want a companion for the whole year – either in your home or as an individual protector.
You can choose one or more elements to have with you throughout 2024, just do each ritual the right way and position the items in the indicated places when needed. Here are some suggestions:
Hand of Fatima (Hamsá)
With its intriguing appearance, the Hand of Fatima is an effective amulet of protection, power, and strength. In most representations, it has a centralized eye, which reinforces its protective properties against the evil eye, envy, and negative energies.
Symbolizing the five pillars of Islam (faith, prayer, fasting, charity, and pilgrimage), the Hamsá is usually worn as pendants, key chains, or even in larger sizes on the front door for protection, or at the head of the bed to avoid nightmares.
Greek Eye
Epsom salt: be amazed by its uses and benefitsIt can be hung from the top of the door or turned "looking" at it, or as a personal amulet – bracelets, key chains, and pendants are very common and effective for personal protection. The Greek eye is used to capture all the bad energy in the environment or from whoever is wearing it.
It is believed that when the Greek eye breaks or cracks, it has already fulfilled its function and needs to be replaced.
Dream Filter
A typical amulet of the Native American culture, the Dream Filter is widely used to purify energies, separating "dreams" from "nightmares", as well as providing wisdom and luck to those who possess it.
It is believed that good dreams would be able to pass through the circle formed in the center of its web, while bad dreams would be trapped within it. Thus, its symbol is still used today as a tool for protection, self-knowledge, and good vibrations.
To obtain the results of the Dream Filter, it is recommended to place it in the bedroom, especially in the window or on the bed – preferably in contact with sunlight. In this way, it will act in the prevention of nightmares and in the energetic protection of the person who uses it.
Horseshoe
Besides attracting luck, the horseshoe is a symbol that can cut through negativity. It is commonly placed with the arc facing up behind the front door of homes and businesses, but you can also use it as a personal talisman.
Some horseshoes even have seven nail holes (which is ideal) and inscriptions containing other magical symbols, such as elephants, clovers, keys, figs, hares, and the number 13, among others.
---
Key
Representing the union between heaven and earth, the key is used to open or close the doors to life's opportunities. It is also well known for its ability to "close the body" against the evil eye and bad energies.
You can use a key behind your front door, or as a personal amulet, on a pendant or key chain, for example.
---
You may also like:
---