Lunar calendar for August: a month with 5 moons
---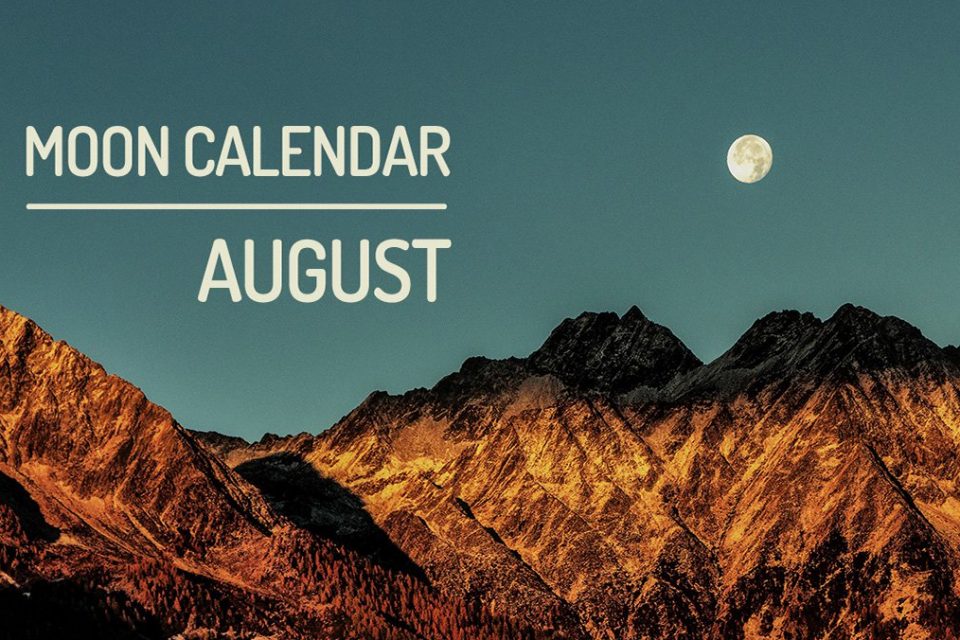 Eastern Time Zone | GMT -5 Standard; GMT -4 Daylihgt
The middle of the second half of the year starts with the uncertainties that fuel our thoughts. What does the influence of the lunar phases of August reserve for us?
For the first time this year, we will have five phases of the Moon in the same month. In this case, we are talking about two New Moons, which deserves special attention. Do not let the chance of change go unnoticed. Full of energy and serenity, the month of August begins with reflection, self-knowledge, and confidence to run after your dreams.
Next, we share with you tips and recommendations for the full lunar calendar for August, 2019 so you can schedule it the right away.
Receive all our tips by email!
Love Astrology? Subscribe Now and Receive Exclusive Content!
Phases of the Moon: Lunar Calendar for August 2019
---
1st phase of the calendar: New Moon
As soon as the first day of the month, the New Moon appears in the sky. Although almost invisible, it marks the beginning of a period of great reflection and planning on what is yet to come. Before leaving for appointments, closing deals or any other important activity, try to spend a little more time getting to know yourself.
If you are dissatisfied with something, try to find new ways. Make plans, strategize, change tactics and rethink attitudes. As you get to know and accept yourself, you are more likely to succeed.
In personal aspects, now is a good time to dialogue and forgive people who have hurt you. Evolution is everything.
2nd phase of the calendar: First Quarter
The First Quarter phase of the lunar calendar for August starts from the 7th day; it will help you see more fully all your ideals. Now is a good time to take a new job or start a business if it is in your plans. Some obstacles can stand before you, testing your willpower and firmness. Do not hesitate before them. Stay focused and focus your efforts to achieve the goals you set.
The First Quarter brings the jovial energy to the surface, and you will feel more stubborn, fearless, daring and dreamy. It is from here that the rest of the month will be set, resulting in the growth of success or the emergence of more obstacles.
3rd phase of the calendar: Full Moon
The most sensitive and dreamy phase of the Moon arrives on the 15th and makes communication skills at your side, provided you are feeling confident in what you set out to do.
If by chance you feel more nervous (especially women), it may be interesting to channel this noxious energy into something good for you, such as physical exercise or social relationships.
The Full Moon almost always stirs your emotions and changes moods, so it is very likely that your behavior here will depend on how your actions were conducted in the earlier lunar phases.
This Moon represents the culmination of accomplishments, so keep calm, balance and enjoy.
4th phase of the calendar: Last Quarter
The Last Quarter (23rd of August) invites a different reflection than that of the New Moon; from here we become wiser, and we have to reflect on what to change or eliminate from our life.
Some people may reach this lunar phase feeling somewhat "loaded" energetically. Take a good bath of rosemary or lemon balm, stay always focused on everything you want to eliminate. Energy cleansing also serves environments and objects.
5th phase of the calendar: New Moon
A New Moon? Again? Yes, this is a common phenomenon, and very important for those who rely on the phases of the Moon to take certain actions. When two New Moons occur in the same month, we call the second a Violet Moon.
As of August 30, the Violet Moon appears in order to potentiate all the characteristics of the first New Moon. We are in a moment of deep reflection, of silence and communication with its true purpose.
For some people with greater sensitivity, it is even possible to receive some signs or even clairvoyance as a way of guiding their life trajectory.
Spiritual and personal growth are also on the agenda during the Violet Moon, so make use of this energy to evolve.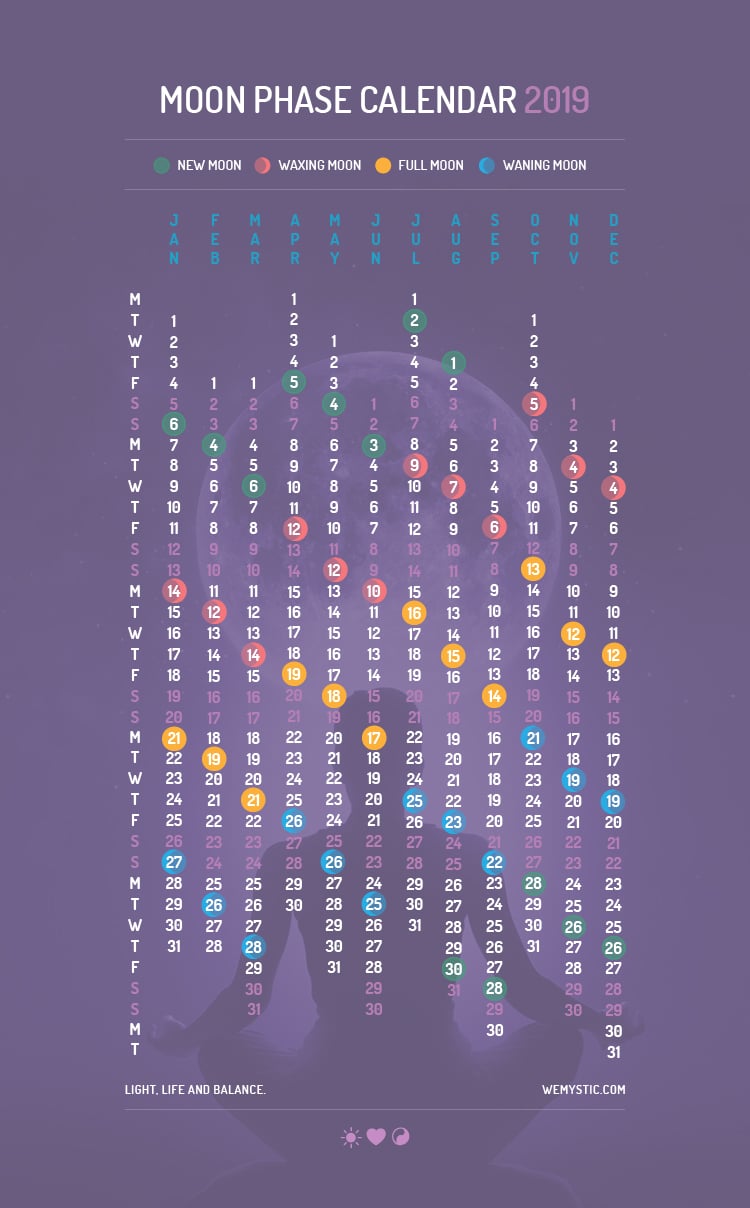 Phases of the Moon in August 2019: The Energy of the Astros
August will be a bright and very special month. Early on, conflicts tend to be solved, and you will be filled with hope to make it happen throughout August. There's nothing to dislike here. Just make good use of all the energy that the cosmos is providing.
This month will be able to grant more moments of reflection, self-knowledge and assertive choices. You are more confident, you tend to act more rationally and you can pass the questionings over things that do not make sense at the moment.
Searching for the calendar for another month?
---
---
You may also like:
---