Lunar calendar for February 2020: best recommendations
---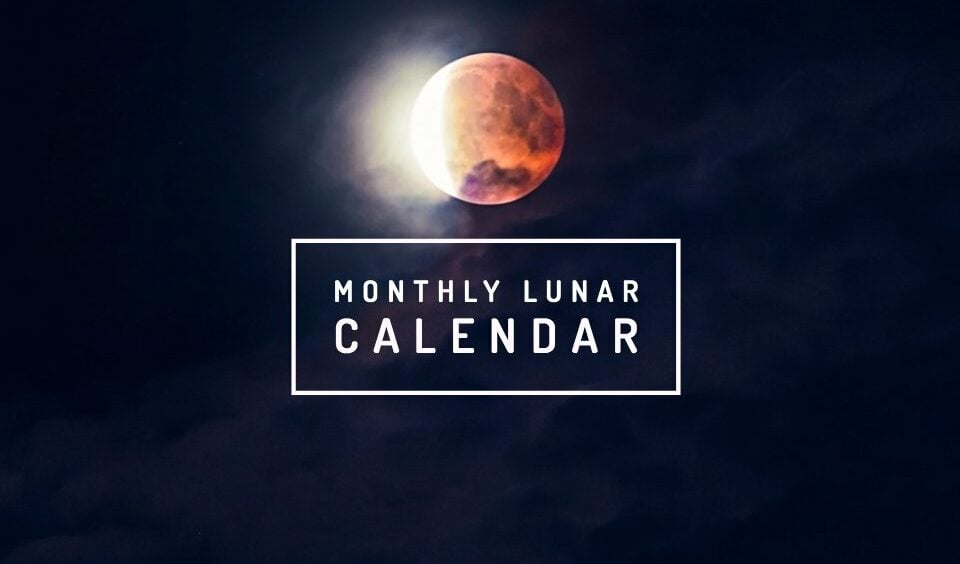 Eastern Time Zone | GMT -5 Standard; GMT -4 Daylihgt
Our ancestors observed the great impact of the moon phases on tides, agriculture, and even on people's moods. Compilations of the effects of this satellite are the basis of astrology. Each lunar phase is fit for something. Those who live in the countryside have this perception easily, but in urban centers this precious compass has been lost. Plan the events in your life according to moon. What are the best recommendations according to the lunar calendar for February 2020?
Receive all our tips by email!
Love Astrology? Subscribe Now and Receive Exclusive Content!
Lunar calendar for February 2020
---
First Quarter February 1st, 2020: the moment of action
The First Quarter moon in 2020 will function as an interim period until it reaches its peak. If you planned in the previous phase, now is the time to pick up speed. Eliminate misunderstandings, structure your new projects, abandon certain situations and finally restart your life projects.
For fans of spells and rituals, this first phase of the lunar calendar for February is the perfect time to interpret some of them in the areas of love, prosperity, luck, health (especially healing) and beauty.
Full Moon February 9th, 2020: love, sensitivity and a lot of energy
All your acts, plans and thoughts orchestrated during the previous lunar phases must be "judged" now, and the result will come on your previous performance.
Full and beautiful, the Full Moon in 2020 will make people a little more receptive to others. It is not uncommon that some people are more connected to their subconscious; skills like clairvoyance can be optimized here. Rituals, spells and sympathies generally work best at this stage.
Try to take advantage of this lunar phase to better work on channeling your energies. Make sure that mood instability does not disrupt your plans, let alone your interpersonal relationships – which may suffer from anxiety, obsession or aggression.
Last Quarter February 15, 2020: reflection, knowledge and wisdom
During this phase wisdom and moments of reflection will reign. It is common for people to feel more introspective and even depressed, especially premenstrual women.
The waning moon in 2020 will be a time of great teaching and self-knowledge. This phase invites you to reflect on your own life, accomplishments and decisions that you have delayed even though you still need to finish them.
When slowing down, you should focus on finishing processes, whether they are related to jobs, projects, relationships, or situations. It's a cycle of endings, goodbyes and even creative solutions to some past problems.
New Moon February 23, 2020: initiating plans and projects
The New Moon is the beginning of a period of new projects, plans and ideas. This is where the mind often buzzes with opportunities to initiate dreams, goals and objectives.
During this phase, it is recommended to temporarily forget the past, because everything that was important to you can lose its strength now. Try to provide moments of serenity and sensitivity, because during this moon, you could be trained in many directions – so make the best choice, right?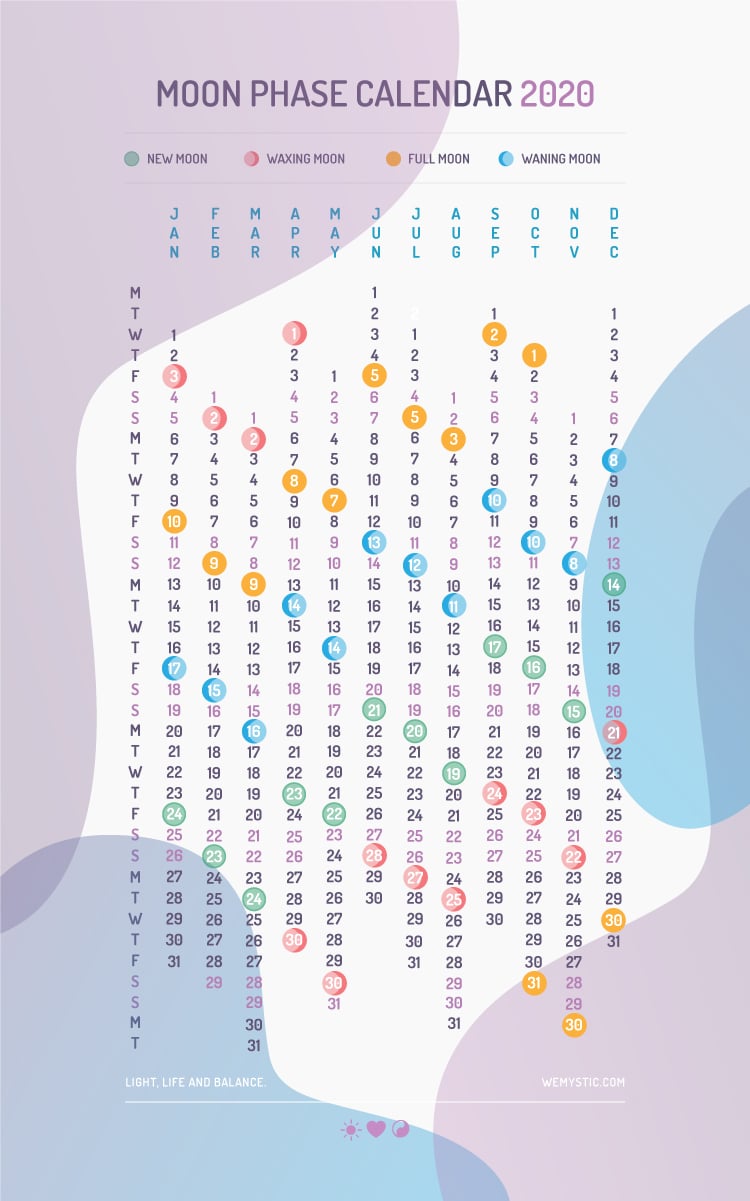 Moon phases in February 2020: The energy of the stars
Again under increasing energy, February suggests change, magnetism and attitudes. It's still time to ponder your new year's resolutions. Have you set the right goals?
Advice from the stars: be more receptive to the people around you. After all, opposites attract and can complement each other harmoniously.
Obstacles in your path should not be alarming, but persevere over them. Better understand the value of differences; they are enriching, and time will demonstrate that. Work your anxiety better and let things happen naturally.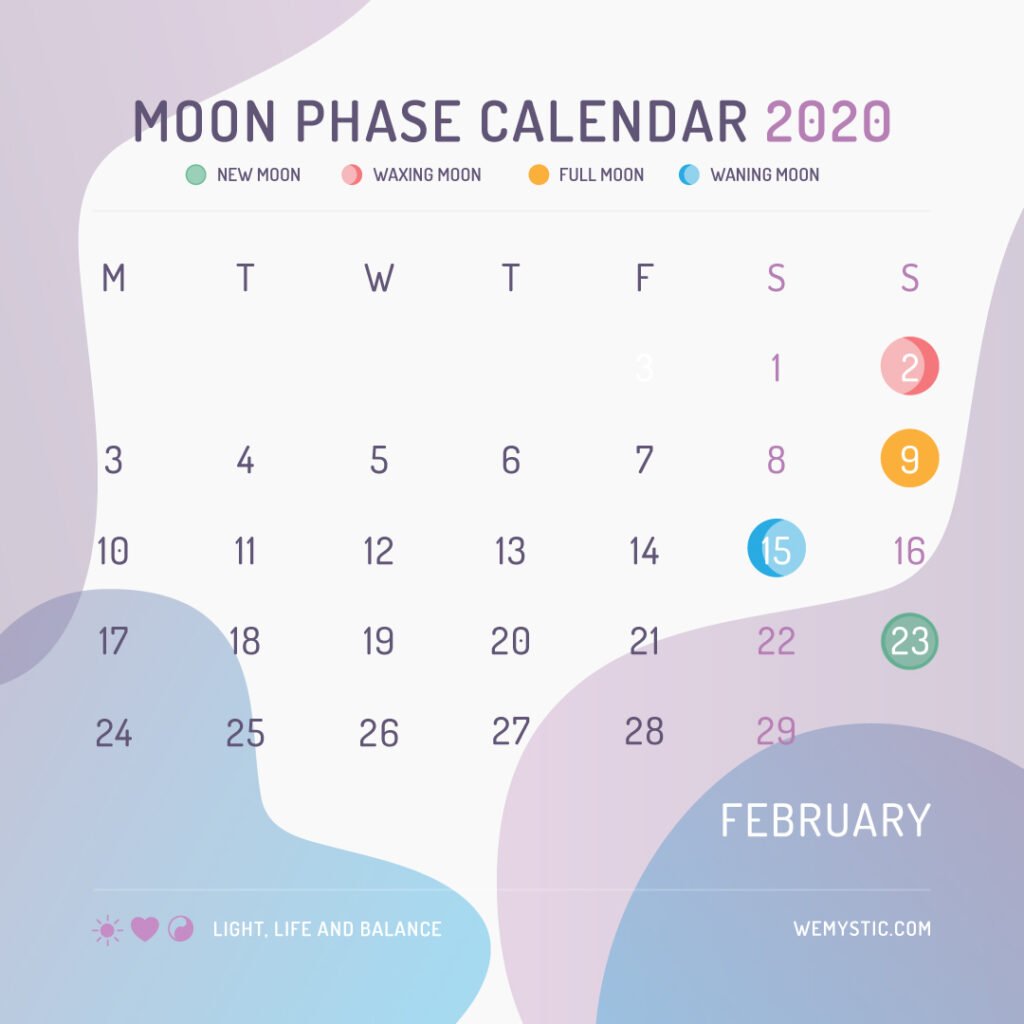 Searching for the calendar for another month?
---
You may also like:
---