---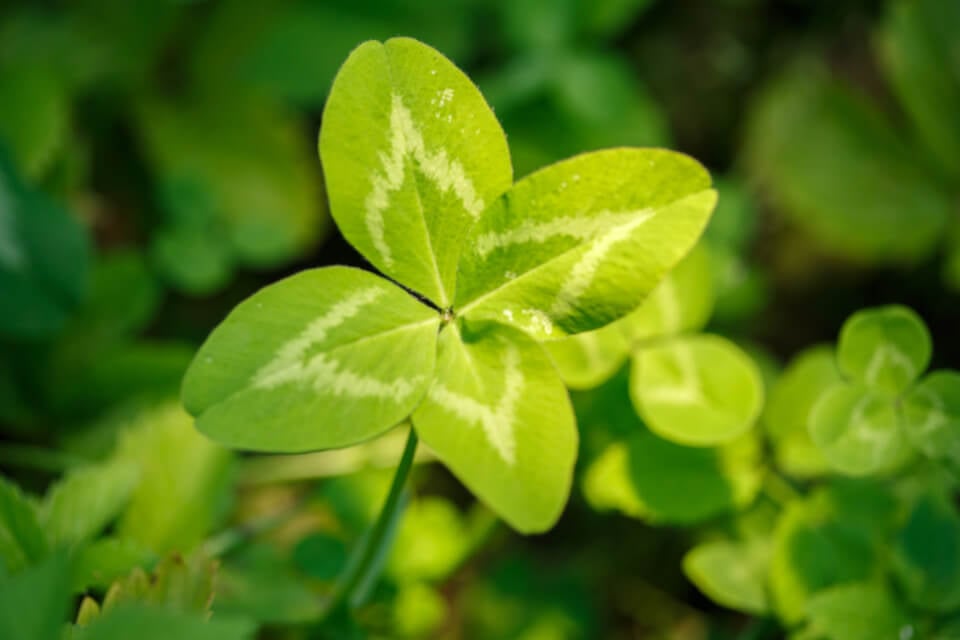 For all his greatness and spirit of leadership, we know that the king of the jungle has its whims and beliefs to attract luck and success. The lucky charms for Leo include elements designed to help you overcome obstacles, balance and, of course, a little push of the universe to shine.
Receive all our tips by email!
Love Astrology? Subscribe Now and Receive Exclusive Content!
Lucky Charms for Leo: the four-leaf clover
---
One does not have to be a Leo to know the meaning of a four-leaf clover. Represented in all places where luck is a main subject, this rare specimen is among the top lucky charms for Leo.
Originally from ancient Celtic traditions, it is believed that anyone who finds a four-leaf clover will be given the chance to see fairies and, as a result, will be very lucky and successful in their life.
As the name suggests, trifolium repens usually produces only three leaves; number four being an anomaly considered magical by several factors. If you stop to think, four are the cardinal points, the seasons, the alchemical elements, and the phases of the moon, for example.
For Christians, the number four also represents some important revelations, such as the arms of the cross and the number of evangelists; among the Hebrews, four are the letters of the name of God. There are even those who give each leaf of the clover a quality, such as faith, hope, love, and luck.
In purse or wallet
It is very common to find four-leaf clovers already plasticized or in a bag. This setting is so you can keep it in your purse, in your wallet or even carry it in your pants pocket – especially the right one.
Despite being available for purchase and being produced by the thousands on specialized farms, it is believed that clovers purchased do not produce the same effects as those found accidentally. If you want a really powerful talisman, ideally bump into it out there.
Tattoo
Enhanced by its delicacy, the four-leaf clover can be seen on the skin of many women; usually in places such as wrists, ankles, shoulders and neck. Indeed, the fine and harmonious forms of the clover can make up the eternal amulet.
The tattoo aims to attract luck especially and may come with other symbols to complement this intention.

98.1% (1312)
Other Leo Charms
Popular around the world, the four-leaf clover is a talisman that deserves care and attention due to the numerous symbolisms attributed to it. However, there are other Leo symbols and charms where you can combine elements to achieve your goals.
Incense sticks: jasmine, benzoin and white sandalwood;
Animal: lion and phoenix;
Stone: gold and topaz;
Numbers: 1 and 3;
Planet: Sun;
Plant: sunflower, clove and turmeric;
Symbols: dragon, greek eye and fig.
Know more about Leo' s character and personality traits
Looking for Lucky Charms for another sign?
You may also like:

98.1% (1312)
---