---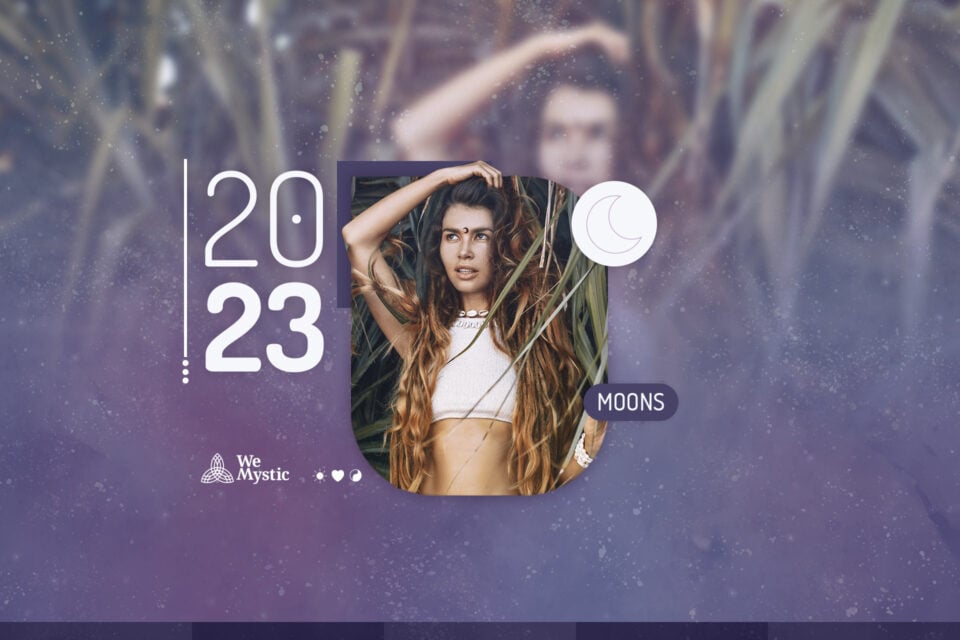 The Moon Phases in May 2023 bring much more than patterns to be followed. The month will be marked by a more action-oriented energy, ambition and determination; and only then a pause to rest and ponder. Are you ready?
Below, check out the Moon Phases in May 2023. A little further down, see some tips and predictions for getting organized and prepared for the month ahead, based on the phases of the May Moon.
Moon Phases: May 2023
| | | |
| --- | --- | --- |
| Moon Phase | Date | Time |
| Full Moon 🌕 | May 05th | 1:36 PM |
| Waning Moon 🌘 | May 12th | 3:31 PM |
| New Moon 🌑 | May 19th | 11:55 AM |
| Waxing Moon 🌒 | May 27th | 11:22 AM |
Moon Phases in May: Full Moon in Scorpio
Starting on the 5th, the Flower Full Moon in Scorpio is accompanied by a total eclipse, revealing a powerful energy to implement new projects. You will be taken by a great deal of intensity in your actions and thoughts; which can be good on the one hand, but explosive on the other.
Those who set their intentions well during the New Moon should be reaping the benefits at this stage. Opportunities may arise, and even results from the hard work done the previous week are forthcoming. But be careful with relationships. In love and professional partnerships, while synergy and passion will make things work, any spark can create a fire.
Waning Moon in Aquarius
Beginning on the 12th, there is nothing better than a Waning Moon in Pisces to provide a less concrete and more intuitive energy. The atmosphere will be lighter, easier, and more affective in a way. Surrender and rest. Is there something you need to correct? Then take the moment to reevaluate some topics in your life.
Introspection and self-knowledge is one of the mottos now, so strengthen your identity to follow your path with energy in the coming weeks. Clarify your thoughts, identify your strengths and abilities, and prepare for the next phase.
Moon Phases in May: New Moon in Taurus
Although the New Moon may be hidden in the sky, we should not underestimate its powerful influence on our lives. The head is bubbling with new ideas, and those that have not yet been sown get new props.
Faced with so much information, indiscriminate actions are likely to lead to situations without focus or planning. Concentrate on setting goals and make an effort so that emotions do not completely control your life. Take advantage of the grounded energy of the Taurus sign to act more rationally when faced with situations that require a quick solution!
On the 20th we will enter the Gemini lunation, which favors new relationships – loving, professional, or friendships. Take the opportunity to strengthen your networking and your "contacts". Keep them there, because you will need them in the future!
Moon Phases in May: Waxing Moon in Virgo
If in the previous phase you found the time and discernment to plant the seeds that could lead you to a splendid future, now is the time to get the recognition you have so longed for. The Crescent Moon in Leo on the 27th will make you feel more driven to start acting, and even reacting in some situations.
It is time to leave your comfort zone to attract more abundance and positive change. Embrace this king of the jungle energy to shine, be respected and valued as you deserve!
The Energy of the Stars
Focused on sensitive actions and important reflections, May is a month directed toward the intentions of the future. You will feel inspired and determined to achieve long-term goals, such as studies, financial goals, or even marriage. Good planning will be indispensable so that you don't get frustrated along the way.
Advice from the stars: Be the leader of your own life this month. Ask for spiritual help to strengthen your identity and charisma. Now is the time to take the leading role and never let the chaos outside overshadow your determination.
To make the necessary changes, you will have to be master of your own mind. Through your actions and convictions, you will get the support of good people to help you organize ideas and plans.
You may also like:
---