New Moon in 2023: initiating plans and projects
---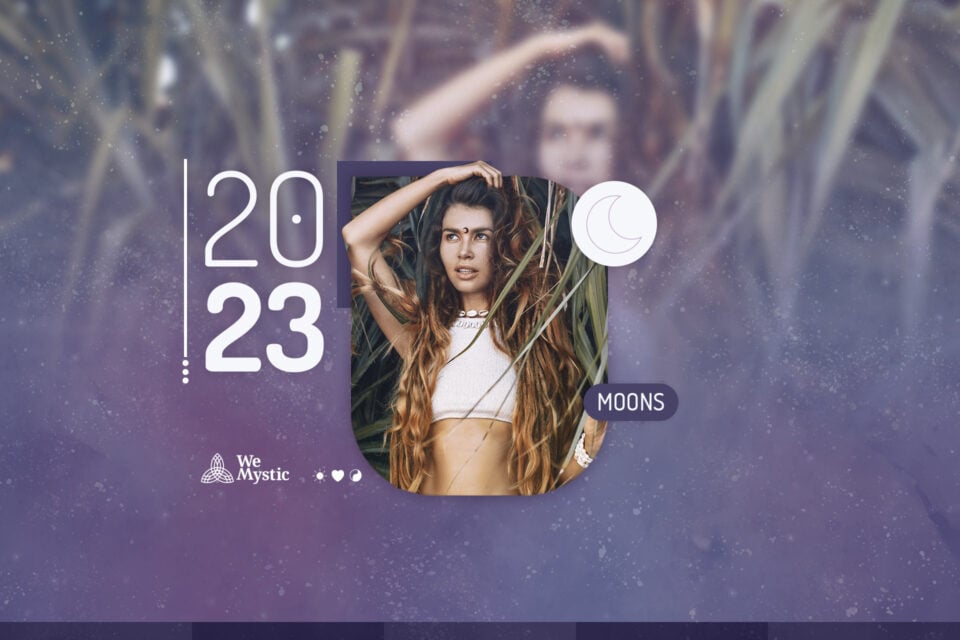 Washington TimeZone | USA (GMT -4)
Regardless of other astrological factors, such as the signs, the phases of the Moon have a very strong effect on our lives, and especially help in making decisions. All lunar cycles are equally important, and the New Moon in 2023 promises to open doors and boost short and long-term projects. Let's see what it has to say?
Receive all our tips by email!
Love Astrology? Subscribe Now and Receive Exclusive Content!
New Moon in 2023: cycles and concepts
As with the other periods, the New Moon in 2023 follows some patterns inherent to this lunar phase, presenting characteristics that do not usually change over time. Starting with its configuration.
The New Moon occurs when the Sun and the Moon are in conjunction, which means that they are in the same sign, in the same degree, or very close to each other, representing one lunation. In this position, despite the great cosmic energy, the Moon becomes practically invisible in the sky, overshadowed by the big star.
In terms of influences on people, the New Moon is considered the beginning of a period of new projects, plans, and ideas. This is when the mind is usually aglow with the possibility of starting dreams, goals, and objectives. However, what not everyone knows, is that up to three days after the rising of a lunation, we are still in the midst of the energy of closure; this will give you an extra breath to finish everything that you did not have time for during the waning period.
During this phase, it is recommended to temporarily forget the past, because everything that was once important to you may be losing strength now. Try to provide moments of serenity and sensitivity, because during this Moon you can feel attracted in many directions – so make the best choice, right?
Get ready to live this important lunar phase! Check below the dates when the New Moon will occur in 2023.
January 21st / February 20th / March 20th / April 20th / May 19th / June 18th / July 17th / August 16th / September 15th / October 14th / November 13th / December 12th.

98.1% (1312)
New Moon and career
Now that you know that this lunar phase represents new beginnings, the New Moon in 2023 should allow new projects in this aspect of life. The period suggests new investments in finances, where you can either change your savings strategy or find an outlet for extra income.
If someone owes you money, favors, or something else, this is a good time to collect the debt.
Nothing you start now will have immediate results, but the period is ideal for starting more complex, long-term businesses. If you are working on something, be it a personal or professional project, take advantage of the lunar phase to have the necessary autonomy and freedom.
As much as the New Moon represents dynamic circumstances, it is important that you do not make hasty decisions. This is a period of germination of ideas and viability, so wait a little longer until the time for action.
Your health under the New Moon
The New Moon is also known as the Lunar Darkness, precisely because it is invisible amidst the darkness of the night. For others, it represents death, even though it is the beginning of a new cycle.
Thus, the Moon can also relate to our biological and emotional cycles, interacting with physiological processes and electromagnetic fields. In women, for example, there is a reduction in ovulation rates, and conceptions decrease considerably – but births tend to increase when there is a New Moon.
Like the Full Moon, the New Moon also exerts a strong gravitational pull on the human body. Research concludes that sleep problems gain strength during this phase. Read more about the Moon's influence on Women.
If you are a person who is more sensitive to the phases of the Moon (like those in Water signs), you may feel some restlessness or go through periods of insomnia. It is worth doing some physical activities, meditations, and teas to induce a good night's sleep.
Body, beauty, and the New Moon
Even though health is not exactly benefited by the New Moon, issues related to self-esteem are reinforced by this lunar phase. Do you want your hair to grow faster? Now is the time to give them the final cut.
Diets and changes in eating habits are also positive. The body goes through a deep cleansing process during the cycle, so bet on a new workout or eating program about three days after the New Moon starts.
Think of the New Moon in 2023 as a phase of taking care of your own issues, individuality and self-esteem.
New Moon and love
Although it is not the ideal phase for taking action, singles and committed people will have good surprises during the New Moon, as there are high chances that people or situations will come into their lives.
Those who are looking for a new love may want to update their profiles on dating apps, or even ask a friend to introduce them to interesting people. And when the intention is to find a lasting love, rituals geared toward matters of the heart have a great chance of success.
Those who already have a partner will see the New Moon as a possibility to take the relationship to the next level. Perhaps a more unpretentious conversation will lead you to answers about your partner's intentions. Is it time to start dating? Get married? Move in together? Start a family?
The New Moon is a probing period. Although some cards are already on the table, this is a phase that makes our consciousness a little hazy with regard to emotions. Confusing and uncertain answers may arise.
Lunar Calendar 2023: New Moon
Below, check out the complete lunar calendar with all New Moon appearances in 2023, starting January 21st. Also keep an eye out for the times when it will actually be in the sky, and plan ahead!
| Moon Phase | Date | Hour |
| --- | --- | --- |
| New Moon 🌑 | January 21st | 3:55 PM |
| New Moon 🌑 | February 20th | 2:05 AM |
| New Moon 🌑 | March 21st | 1:23 PM |
| New Moon 🌑 | April 20th | 0:15 AM |
| New Moon 🌑 | May 19th | 11:55 AM |
| New Moon 🌑 | June 18th | 0:39 AM |
| New Moon 🌑 | July 17th | 2:33 PM |
| New Moon 🌑 | August 16th | 5:38 AM |
| New Moon 🌑 | September 14th | 9:40 PM |
| New Moon 🌑 | October 14th | 1:55 PM |
| New Moon 🌑 | November 13th | 4:27 AM |
| New Moon 🌑 | December 12th | 6:32 PM |
You may also like:

98.1% (1312)
---