Love predictions for June 2019
---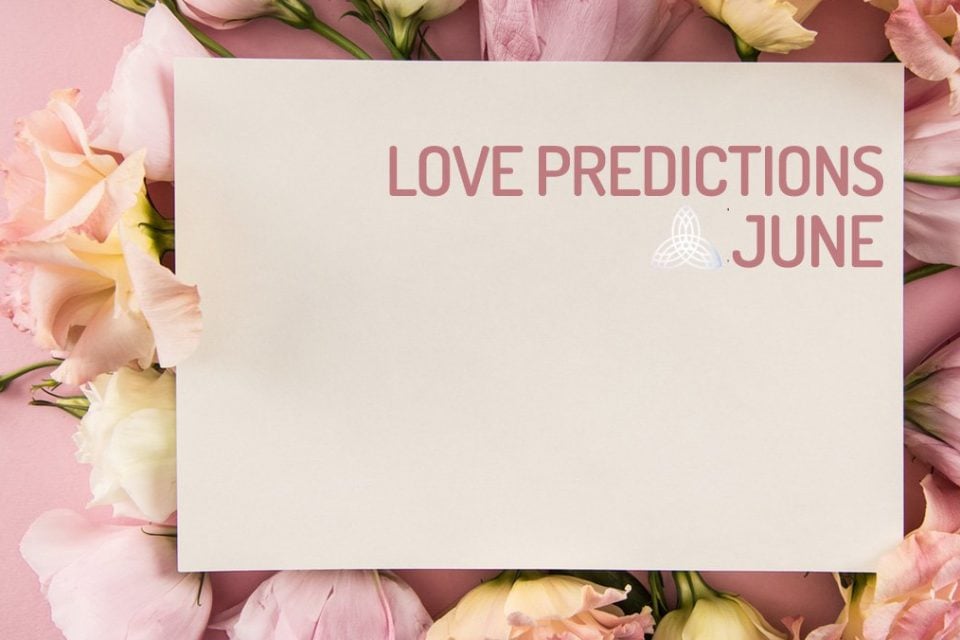 Do you wanna know the love predictions for June 2019? Read now what the stars have for you and get to know what to expect this month in the area of love, sex and relationships.
Receive all our tips by email!
Love Astrology? Subscribe Now and Receive Exclusive Content!
Love predictions for June for each zodiac sign
---
Aries
Everything will be more fun with Venus entering Gemini. The encounter of the planet of love and the sign of communication promises light and friendly conversations. Stay alert on new friendships since they will be the high point of the month. A new affair can come from that.
In the third week of June, the Sun enters Cancer bringing you home to see the importance of your family. There might be a bit of turbulence in the air because of Mars in Cancer too, especially on the days 19-20. Do not expect too much from others.
The last few days of the month will be positive to rethink about what you would tolerate for your partner. You can count on a good perception of your needs and if the relationship is not good, you will know how to put things on the table without causing suffering. Mercury in Leo from day 26 will help you with that.
Discover how to win an Aries' heart >>
Taurus
From day 10, the Moon in Virgo will pour over you an aura of enchantment, sensuality and refinement. Someone new can get your interest and make you move into flirting, pleasing and dating. If you are already attached, enjoy the boost to stir up the relationship and make things more interesting. Pay attention to the details!
The Full Moon in the third week makes time with friends more fun and relaxed. Wait for new friends and surprise around the days 15-16. You will see how much your friends mean to you.
If things have not been good with your family, wait for the final part of the month. With the Sun entering Cancer on day 21, you gain a chance of being close to siblings and cousins. A hot discussion can make you mad but you will be able to solve things up.
Discover how to win a Taurus' heart >>
Gemini
June starts very favorably for you. After all, it is Gemini's season! Be faithful to yourself and respect your needs and desires. This will be important to not live toxic relationships. Venus entering Gemini from day 8 will make you even more popular. Your smile and personality will be the key to open hearts this month.
The Full Moon on day 17 will enlighten the path between you and your beloved one. It is time to think and talk about common goals and wills. Perhaps even decide if you will remain together or choose different ways.
From days 23-25, there will be some disappointment. People can be more quiet and closed, so you will feel in your friendships and relationships. If somebody keeps away from you, do not judge or be sad about it. It is just a weird moment and this shall pass.
Discover how to win a Gemini's heart >>
Cancer
Venus and Pluto's fine-tuning opens the month being a symbol of the transforming power of love. It is time to renovate bonds with your beloved one and live romantic and sensual moments. Even because the dialogue between you two will be flowing just right.
Take advantage of that and try to talk about the responsibilities of you both in the relationship. This will avoid small daily bumps. Although the communication will be strong, pay attention to what you say and choose the best words to speak your mind.
Venus in Gemini will make days between 17-19 very special among your familiars. Friendships will be everything to you during the days 22-24 and this will fit like a glove, since the aura of romanticism will be weaker at the end of the month.
Discover how to win a Cancer's heart >>
Leo
New Moon in Gemini on day 3 will lit your magnetism. Your popularity will increase and attract new people to your life. The best thing about it is that you are going to be open to understand and grow a relationship with them. Some of these people can be special and be in your life for a long time from now on.
The month is propitious to talk about marriage and stable relationships. Travel and life plans can be the best subjects to put light on with your partner. Make sure to praise the qualities of your beloved one and avoid the tendency for grumpy humor during the days between 12-15.
The Full Moon in Sagittarius on day 17 will inspire fun and relaxed moments. Enjoy the time to circulate and meet someone new. Or the attraction can happen with someone from your past. Pay attention to that too.
Discover how to win a Leo's heart >>
Virgo
The love predictions for June are not very happy for you, Virgo. There will be conflicts and almost zero patience to deal with sentimental questions. Especially in the second week when you will not feel willing to understand people and accept differences.
Sun entering Cancer on day 21 can soften this tendency a little but your personal goals and ambitions remain strong during the third week of the month. From day 16, Mercury and Neptune will be in harmony and promise magical moments and better understanding.
By the end of the month, try to apply some more passion and spontaneity in your sexual life. Be brave to put your usual shyness behind and show your true face.
Discover how to win a Virgo's heart >>
Libra
Venus is your ruler and enters Gemini on day 8 bringing lightness and flexibility. This is great for your already adaptive personality and the fact that you do not like to discuss. Between the days 13-16, new people can get your attention to either friendship or romance.
During the second half of the month it will feel good to be in your closest friends, cousins or siblings' company. You can air your mind out or learn something new. They might expect a bit of sacrifice from you, but you will feel happy for helping them with love and attention.
Things can get complicated by the end of the month. The Waning Moon in Aries on day 25 asks you to adjust your interests and goals with your partner. If you do not go along together, the relationship might get scratched.
Discover how to win a Libras's heart >>
Scorpio
Your emotional side will be full of dissatisfaction and questionings at the beginning of the month. Venus in Gemini increases the will to think about what makes you unsatisfied but Mercury in Cancer from day 4 can help you with that. It will give you powerful tips about what you should be serious.
It will be a good idea to go out and have fun with your friends from day 10 with the Waxing Moon in Virgo. On day 22, a shiny period for your romantic life will begin. It will be a happy moment to unwind from daily tasks. The only difficult aspect is that everybody will demand your attention and want you close.
In the last week of June, you can go on short trips with relatives that will reveal in tension. Remember that not everything can be done the way you would like to do. Try to be more flexible and flow in others' rhythm.
Discover how to win a Scorpio's heart >>
Sagittarius
Venus will enter Gemini on day 8 bringing a super positive aura for your love relationships. If you are single, this aspect invites new people to your life. If you have someone, enjoy the time to reinforce what you have in common. Listen, speak and talk to your partner without hiding your fears and fragilities.
Your partner cannot be so open to discussing all of this and if it happens, give him or her a time. Go out with friends and leave him/her alone for a moment. This will sharpen your patience.
Your relationship with friends has everything to flow in a good way in June except by the days 15-16. There will be serious divergences that might provoke a separation. Beware of silly discussions with old friends on the days 18 and 19.
Discover how to win a Sagittarius' heart >>
Capricorn
You tend to be reserved and do not trust people easily but during the days 7-14 you are going to have an excellent opportunity to know your beloved one in daily life. Enjoy the time to believe that dialogue serves to make you closer and adjust expectations.
Try to be more sexy and versatile, spicing up with little surprises. Especially between days 9 and 16 because they will fruit in good results for you both. When the end of the month comes, you are going to prefer to be alone and maybe take a short trip by yourself.
Among family and friends you are going to know who you can count on and vice-versa. Between the days 18-25 you will feel inspired to pass a message full of hope and optimism and this will make the difference on someone's life.
Discover how to win a Capricorn's heart >>
Aquarius
The love predictions for June are good for you, Aquarius. With the New Moon in Gemini on day 3 one of the best periods to win that special person begins. Your power of attraction will be on point during the beginning of June, leaving people amazed by your shiny mind. It is a great opportunity to live the innovations you always have loved and take your crush to an exciting date.
Expect a romantic moment to bring someone new to your life or put you closer to your partner between days 13 and 15. From the second half of the month, you can keep expecting optimism and support, specially from your friends.
Mercury in Leo from day 26 makes a good period to speak your mind with honesty with your beloved ones, but be prepared to listen to some complaining too. Do not judge and listen with an open heart.
Discover how to win an Aquarius' heart >>
Pisces
Your family will be on the top of your list in the beginning of June. You will be willing to stay at home cultivating a comfortable and charming place to reunite people who you love. With the New Moon in Gemini on day 3, you will have the perfect excuse to invite people over. Good opportunity to try those new recipes you have been saving on Pinterest.
The main trend of this month is the contact with different people and new friends. After day 10, the love and social relationships will gain force. The Waxing Moon in Virgo will put you in a good position to hear and understand people. From there, stronger and more meaningful relationships can be born.
By the end of the month, your partner might demand more from you. If you keep smooth and do not criticize, everything will flow better. You can choose the days 27 and 28 to talk and adjust some mutual responsibility.
Discover how to win a Pisces' heart >>
---
You may also like:

98.1% (1312)
---